The new Z4700 system conforms to the ergonomic and design tradition of Zanasi. Like all of the Zanasi product offerings, it has a robust and compact AISI 304 stainless steel IP55 cabinet without compressed air connection and can be integrated into any working environment. The hydraulic system has been redesigned to maintain high quality standards even after prolonged stoppages, to meet the demand for reliability both during standard, as well as more intensive uses, spanning several work shifts.
Z4700 is based on innovative management software on a stable and flexible operating system, with 10.1″ color touchscreen. A new coding experience with customizable user interface for each operator through language, keyboard and activities (multilevel login). A graphic editor with simple and intuitive icons and stretch and drag & drop functions.

Advanced and versatile integration via Ethernet, USB and serial ports allows access to external databases with fixed and variable type text fields enabling the system performance to be monitored remotely. A contextual help menu enables the viewing of teaching demos and information for problem solving, drastically reducing time for dedicated staff.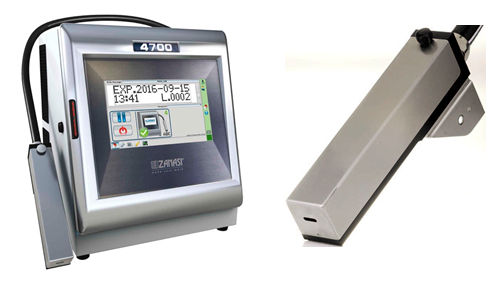 TECHNICAL SPECIFICATIONS
PRINTING CHARACTERISTIC
Up to 4 lines of print
Characters height from 0,8 to 12 mm (0,032" – 0,47")
Line speed capability: up to 400 mt/min (1320ft/min)
Print rate: up to 2136ct/sec
Messages and logos storage: up to 4 GB with expandable micro SD memory
Up to 6800 stroke per message
Fixed and variable text field types (with operator, automatic or external)
Text field placing is freely selectable
Available fonts: 5×4, 5×5, 7×4, 7×5, 9×7, 10×8, 16×10, 24×16
Space between characters is freely selectable
Print intensity is freely selectable
Rapid images, shapes and lines creation
from touch-screen display
Automatic date, time, offsets and expiry date multifunction
Incrementing/decreasing alphanumeric product counters up to 9 digits
Metric repeat print – message function
Customizable message repeat with single print start
Field orientation: 0°, 90°, 180°, 270°
Tower print function (Text rotation of 90°)
Print throw distance up to 90 mm –3,54" (single line from minimum 3 mm – 0,118")
BAR CODES:
2/5 Industrial • UPC-A • CODE 39 • EAN 13 • CODE 128 (A,B,C) • EAN 128 (A,B,C) • 2D – Datamatrix • ITF (A,B,C)
CONTROL UNIT CHARACTERISTICS
10,1" TFT full color anti-reflection high contrast LED touch-screen
Stainless steel structure AISI 304
IP55 rating, no compressed air
Conduit length: 2 mt – 6,56 ft (4 mt – 13,1 ft optional)
GENERAL FEATURES
Exclusive customizable user interface for single operator (functionality, language and alphabets)
Intuitive user interface with graphic icons
Innovative graphic editor with stretch e drag & drop functions with smartphone technology
User interface and virtual keyboard with foreign languages and alphabets
Automatic flushing with solvent recycling in both start up and shut down
Low consumption thanks to the enhanced recycling system
Message storage with file name
Print parameters storage in the messages
Check message dimension
Multi-level access with login
Report function for executed printing counter
On line help and user manual with contextual photos and videos
PRINT HEAD:
Stainless steel and aluminium structure hermetically sealed
Micro Print Nozzle for high quality resolution print
Auto-phasing of ink stream for consistent print quality
Microjet nozzle cleaning function
Wide range of standard, pigmented, food and MEK-free inks
Conduit inlet at 90° (optional)
Internal Supply Positive Air Function
90° model for reduced spaces (optional)
EXTERNAL CONNECTION
Serial connection RS232 and RS485/422
Ethernet interface for LAN 10/100 connection
USB port version 2.0
Sensor management for product reading
System ready output
Shaft Encoder input for variable speed production lines
External alarm outputs with traffic light column
Parallel interface BCD, 2 bit
Scanner connection for printed bar code validation or index message selection
ENVIROMENT/ELECTRICAL REQUIREMENTS
Temperature: from 5° to 45° C (40° – 113°F)
Humidity: 10-90% (non – condensing)
Single Phase, 85-240Vac, 50-60Hz, 100 VA