The MX-1000 vision-enabled mobile terminal allows you to leverage the latest mobile devices for your industrial barcode reading applications. The MX platform is both rugged and modular. The flexible design accepts a variety of both current and future generation smartphones and augments their capability in a fully ruggedized housing, tough enough to stand up to the most challenging environments. The MX-1000 has Cognex patented class-leading 1DMax ® and 2DMax ® algorithms to give the fastest barcode reading performance on both 1-D, 2-D and even challenging direct part mark (DPM) codes. Put your mobile devices to work acr oss your entire enterprise!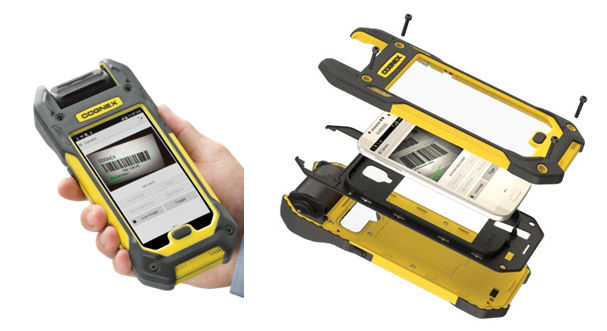 RUGGED
The design of the MX-1000 makes any supported mobile device ready to meet the challenges of the most demanding environments. The industrial-grade, rugged housing can handle up to 50 drops from 2 meters onto concrete. It is IP-65 sealed and uses inductive wireless charging so there are no exposed electrical contacts to wear out or fail.
MODULAR
The MX platform is also future-proof and accepts a variety of Android ® and iOS ® smartphones. If your device needs to be repaired or upgraded, simply exchange the top cover kit to adapt the MX-1000 to any supported mobile device. The modular design means your investment is protected and you are always ready for the latest technology. The pistol grip accessory doubles the MX-1000 battery capacity that powers both the scan engine and the mobile device.
SMART
MX-1000 vision-enabled mobile terminals are equipped with world-class Cognex barcode reading algorithms. 1-D and 2-D label-based codes as well as challenging 2-D DPM codes can be read quickly and easily. The MX-1000 leverages the latest communication technologies supported by your mobile device including 3G, 4G, 4G LTE, Wi-Fi, Bluetooth and more.
Proven performance
The MX-1000 is ideal for applications in any industrial environment that requires robust 1-D and 2-D barcode reading technology.
▪ Couriers
▪ Field service
▪ Parcel delivery
▪ Transportation
▪ Logistics
▪ Utilities
▪ Telecommunications
▪ Cable companies
▪ Pharmaceutical
▪ Tobacco
▪ Automotive
▪ Manufacturing
Accessories
The MX-1000 has a selection of available accessories for charging and handling.
The sturdy belt holster attaches comfortably and easily to any size belt and is made of industrial-grade materials to withstand heavy daily use.
The pistol grip handle offers an alternative configuration for comfortable "point & shoot" barcode reading. The handle contains a secondary battery that doubles the MX-1000 power capacity.
The wireless charging station eliminates charge failures from poor connections ensuring a full charge in less than 6 hours. The spare battery can be fully charged in less than 4 hours.