Enercon's new Super Seal™ Jr offers an unprecedented combination of sealing capability, portability, and production flexibility from an incredibly small footprint. Only 3″ x 8.25″ x 10.5″ (76mm x 210mm x 267mm). And, it seals everything from the smallest closures to 120 mm wide-mouth containers.
Unlike manual induction sealing systems over twice its size, the Super Seal™ Jr. offers packagers premium flexibility and portability. The unit's compact design and high level performance is a direct result of forward-thinking electronic architecture which features a proprietary device switching technique. This induction sealer is ideal for laboratory applications, manual or hand held production, off-line testing; and startup operations with aspirations of increased productivity.
An operator friendly display completes this powerful hand held induction cap sealer. Users will benefit from a digital sealing timer, missing foil indicator, as well as an electronic batch and foil counter.
When you need to transport or store the Super Seal™ Jr simply pack it into its convenient carrying case. This unit does not require water or special power so it can be used virtually anywhere. The Super Seal™ Jr. is extremely simple to handle, carry and operate and is the perfect answer to your portable induction sealing needs.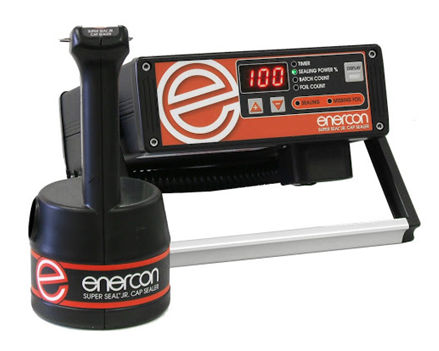 Super Seal™ Jr Standard Features
Advanced circuitry and Enercon's well-proven and ultra-reliable sealing head design
Maximum sealing power from a small footprint
Standard sealing head seals cap diameters up to 83mm, with available sealing head capable of sealing cap diameters up to 120mm (specialty sealing heads available)
Digital timer to ensure accurate sealing
Missing Foil indicator
Batch counter
Easy hand held design
Carrying case for portable convenience