Z408 Pi
 is an industrial large character printing system designed for coding with special pigmented inks. It is suitable for the heavy industry, especially for printing on metal tubes, sheets and beams, plastic pipes and bars and various products made of rubber.
Z408 Pi
 plays a strategic role in the management of coding with strong pigmented inks.
Z408 Pi
 manages 7, 16 and 32 dot NZP printheads with character height up to 120mm, which guarantee total ink circulation.
Z408 Pi
 system offers excellent performances in harsh environments, ensuring a high-contrast coding of alphanumeric texts, expiry dates, counters, production batch and logos directly on flat, curved and irregular surfaces. The simple and compact console, with stainless steel structure AISI 304, is equipped with a 10,1″ full color touch-screen display, which lends itself to clear legibility and easy message programming.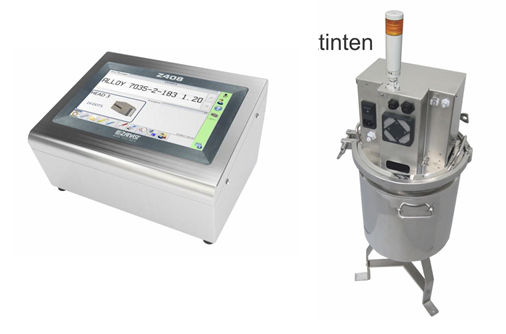 TECHNICAL SPECIFICATIONS
PRINTING CHARACTERISTIC
Management of:
1 or 2 32 dots printheads
1 or 2 16 dots printheads
1 or 2 7 dots printheads
Up to 10 printing lines
Characters height from 5 to 120 mm (0,2″ – 4,7″)
Line speed capability up to 180 mt/min (591 ft/min)
Printing rate: up to 266 ct/sec
Up to 6800 stroke per message
Messages and logos storage: up to 4GB with expandable micro SD memory
Fixed and variable text fields types (automatic or external)
Available fonts: 5×4, 5×5, 6×4, 7×4, 7×5, 9×5, 9×7, 10×8, 12×10, 16×10, 24×16, 32×18 and TrueType
Logos, shapes and lines easy and quick creation through touch-screen display
Automatic date, time, offsets and expiry date multifunction
Incrementing/decreasing alphanumeric products counter up to 9 digits
Metric repeat print–message function
Customizable message repeat with single print start
Field orientation: 0°, 90°, 180°, 270°
Tower print function (Text rotation of 90°)
Coding throw distance up to 35 mm (1,37")
BAR CODES
2/5 Industrial, UPC-A, CODE 39, EAN 13
CONTROL UNIT CHARACTERISTIC
10,1" TFT full color anti-reflection high contrast LED touch-screen
Stainless steel structure AISI 304
Printhead-console distance: up to 10 mt (33 ft)
Support on rubber feet
GENERAL FEATURES
Exclusive customizable user interface for single operator (functionality, language and alphabets)
Intuitive user interface with graphic icons
Innovative graphic editor with stretch and drag & drop
User interface and virtual keyboard with foreign languages and alphabets
Purge and calibration per single dot
Message storage with file name
Print parameters storage in the messages
Message dimension check before print
Multi-level access with login
Real time throughput counter
Online help and user manual with contextual photos and videos
INK SUPPLY SYSTEM CHARACTERISTIC
Exclusive ink tank supply system for continuous ink circulation and agitation
High-performance hydraulic circulating pump
Stainless steel structure AISI 304
Ink tank capacity: 12 lt
Ink low level signal
Dimensions: h. 950 mm x d. 346 mm (37,4″ x 13,6″)
PRINTHEAD
High efficiency Solenoid technology
High contrast coding with fast drying and high adhesion pigmented inks
Stainless steel nozzle plate AISI 304
High precision nozzles made of synthetic ruby
Stainless steel structure AISI 304
Teflon hydraulic connections
Quick release hydraulic fitting (CPC)
Product sensor with metric M12 connector
Dimensions 7 dot printhead: 230 mm x 80 mm x 45 mm (9,0″ x 3,1″ x 1,8″)
Dimensions 16 dot printhead: 230 mm x 80 mm x 85 mm (9,0″ x 3,1″ x 3,3″)
Dimensions 32 dot printhead: 230 mm x 80 mm x 154 mm (9,0″ x 3,1″ x 6,1″)
EXTERNAL CONNECTIONS
Serial connection RS232
Ethernet interface for LAN 10/100 connection
USB port version 2.0
Sensor management for product reading
System ready output
Shaft Encoder input for variable speed production lines
External alarm outputs for low ink level
Parallel interface BCD, 6 bit
Configurable I/O ports
ENVIROMENT/ELECTRICAL REQUIREMENTS
Temperature: from 5° to 40°C (40° – 104°F)
Humidity: 0 – 90% (non-condensing)
Single phase, 85 – 240 Vac, 50 – 60 Hz, 400VA
Single phase, 85-240Vac, 50-60Hz, 800VA